China Auto-Parts and After-sales Service (The Netherlands) Exhibition – a platform to facilitate business transactions and cooperation between Chinese and European auto-parts market and after-market, was officially launched in The Hague on September 14th, 2015. The guests of honour present during the opening ceremony were: Chairman of The Netherlands Council for Trade Promotion Mr. Jochum Haakma, Deputy Mayor of The Hague Mr. Karsten Klein, Senior Project Manager of The Netherlands Foreign Investment Agency Ms. Angelique Uding, Vice Chairman of the Guangdong Chamber of International Commerce Mr. MA Dongshan, Chairman of Jiahe Shengde Investment Holdings B.V. Mr. LIANG Guojian, Chairman of the Poland-Guangdong Chamber of Commerce Mr. LIN Jun, together with many representatives of auto-parts industry from China and The Netherlands.


The ceremony started with the welcoming speeches by the Chairman of NHC Mr. Jochum Hakkma, the Deputy Mayor Mr. Karsten Klein and the Vice Chairman of Guangdong Chamber of International Commerce Mr. Ma Dongshan, followed by the introduction of The Netherlands (The Hague) GIA Trade & Exhibition Center made by the Chairman of Jiahe Shengde Mr. Liang Guojian. The Chairman of the Poland-Guangdong Chamber of Commerce Mr. Lin Jun was invited to participate in the ribbon-cutting ceremony, during which he presented his best wishes of success to Mr. Liang Guojian.

The Exhibition was held in the GIA Trade & Exhibition Centre (The Netherlands), a project located in the automotive industry business centre of The Hague, with only 15 minutes' drive away from the world's largest port Rotterdam. The Centre covers an area of over 20,000 square meters, with a total building area of some 35,000 square meters.

The Netherlands enjoys a strategic and favorable location linking markets within European continent, the Middle East, and Africa. The port of Rotterdam is the busiest port of Europe, and is the gateway to the European market of more than 350 million consumers. The port is also one of the most important junctions of good flows of the world, which makes it possible to transport goods from China to The Netherlands, and to the European continent.

This year the China Auto-Parts and After-Sales Service (The Netherlands) Exhibition was held for the very first time and lasted 3 days from September 14th to 16th, 2015. It attracted more than 100 exhibitors from China, with over 20 most famous manufacturers of high-quality auto parts and components in China among them. The exhibition was aimed at creating a direct platform for European auto-parts distributors and dealers to get acquainted with the Chinese auto-parts brands. A series of specialized conferences and forums were held during this period, serving as a platform for communication between Chinese and European industry talents and specialists. The main events included: promotional seminar of the Chinese auto-parts manufacturers, seminar on the development of Chinese auto parts after market and Chinese business culture, seminar on brand building strategies in Europe and the current state of European Auto Parts After Market.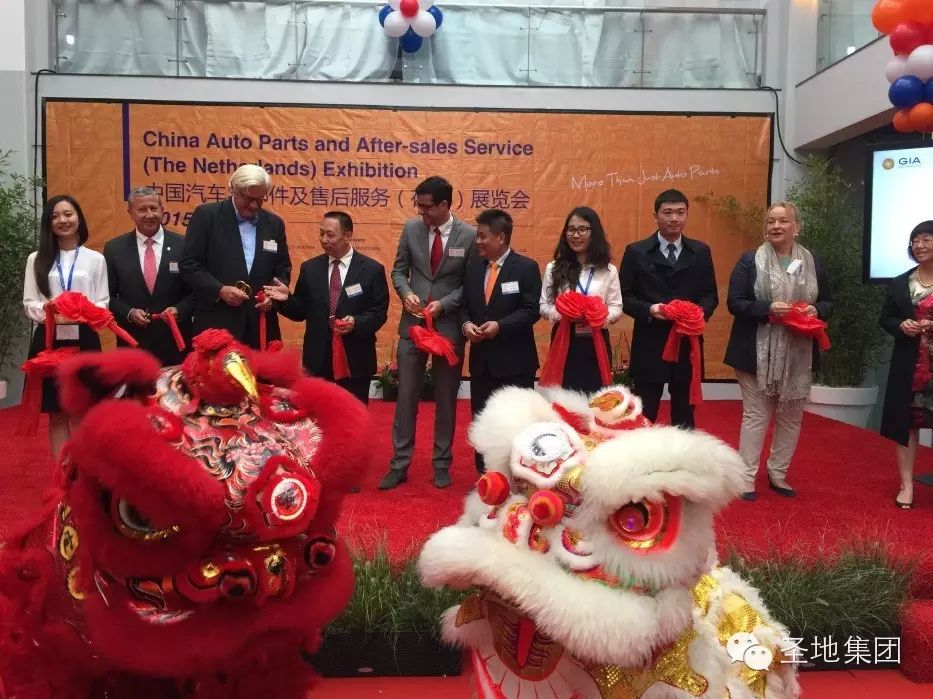 ▲Ribbon-cutting ceremony: Mr.Jochum Haakma (third from the left), Mr. Ma Dongshan (fourth from the left), Mr. Karsten Klein (fifth from the left), Mr. Liang Guojian (fourth from the right), Mr. Lin Jun (second from the right), Ms. Angelique Uding (first from the right)